Masonry Arch Framing
for Beautiful Curves
In the same way that prefabricated arches makes interior drywall finishing far better than site built, using prefab masonry arch framing to create temporary forms for laying masonry arches gives you fantastic results.  Always remember, the finished brick or stone arch will never look better than the framed arch you started with.  
Lopsided arches are an unfortunate part of so many houses, but for a few dollars you can have arch forms that are custom made for the masonry arch framing.  We've seen so many crooked arches that we determined long ago to always use prefabricated arch forms for ours.  
USING MASONRY ARCH FRAMING TO TEMPORARILY SUPPORT STONE AND BRICK ARCHES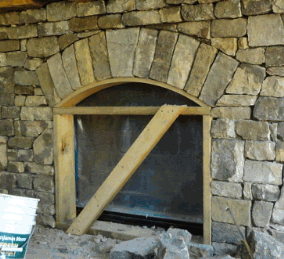 The owner of this home wanted a genuine stone fireplace with an arched opening.  Notice in the picture above that the arch form is set so the highest point, or apex, is just below the top of the opening of the firebox.  The firebox has a level top, but the stone arch gives it a completely different look.  
We ordered the arch with a 5-1/2 inch depth, and I framed it with 2x6's, as you can see, making a box with an arched top.  The sides served as a hard guide for the "jamb" stone, while supporting the arch.  This is authentic stone, about 6 inches thick (real stone costs more than fake stone, but not as much as you might think).  When the stone was completely set, we carefully removed the temporary supporting arch framing.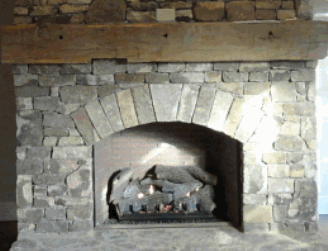 ---
USING DEEP ARCH FRAMING AS A FORM FOR A BRICK ARCH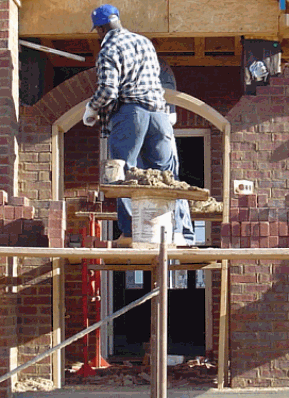 For beautiful, almost perfect brick arches, nothing beats a prefab arch.  We were building this house with a 4 foot wide brick arch as the feature at the front stoop, so I ordered a 1-1/2 inch thick arch, 4 feet wide and 16 inches deep.  I assumed that an arch this thick would support the brick when it was laid, and I was right.  You can see in the photos how it went up.  The masons used two 2x4's on each end of the arch for support.  
The masons were surprised that the temporary arch, which is made of layers of hardboard (like Masonite), was unaffected by the wet mortar.  We have used this arch on other houses, and still have it so we can use it again.  
The temporary arches shown on this page, that we used for stone and brick arches, were made by Custom-Arch, LLC, in Smyrna, Georgia.  We met them at a home building show in Atlanta, and have ordered several arches from them.  We experience a delivery time of 2 or 3 days once we place an order.  Every arch is made to order.  
Return from Masonry Arch Framing to Framing Page
---