Arch Framing Doesn't
Have to Be So Hard

If you want to have one or more arches in your new home, the quality of the arch framing is critical to the finished appearance.  
These are often built on site by the framer, but will have one side lower than the other, and a lopsided curve.  The finished drywall will never look better than the framing you started with.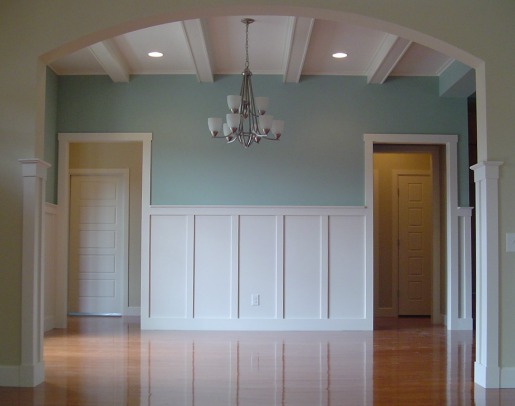 We've seen so many crooked arches that we determined long ago to always use prefabricated forms.  As good as your framer's intentions may be, he cannot site build these, out of OSB (or plywood) and stub 2x4's, anywhere near the standard of prefab units.  
Prefab units for interior wood-framed walls can be ordered for almost any curve, wall thickness, and opening width you need.  In the photos above and below, a 9-foot wide prefab arch, made the depth of two 2x4 walls (7 inches), was installed.  This is one of many that we have ordered for our houses.  It was sent to us via UPS in two halves that we nailed into the framed opening.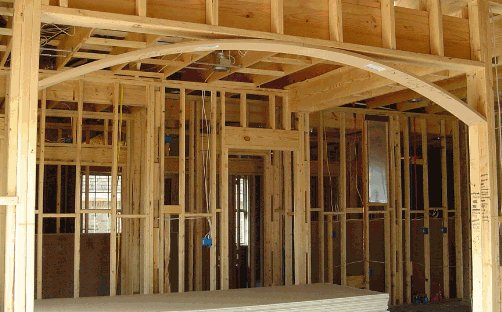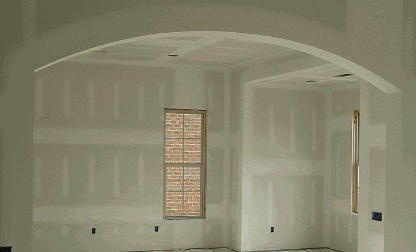 THE SAME OPENING, WITH FINISHED DRYWALL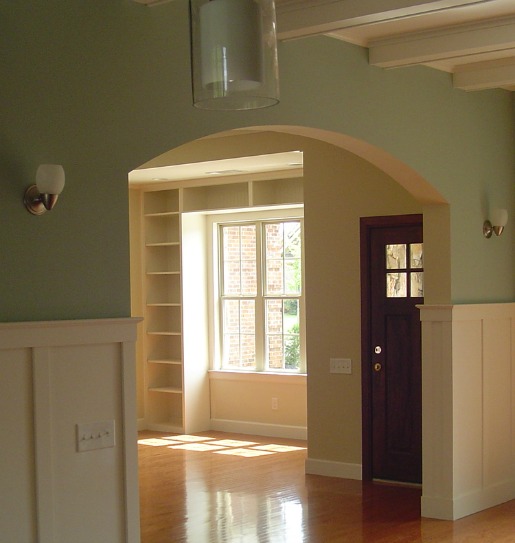 FINISHED!
In this house we enhanced the look and "feel" of the opening by doubling the studs (7 inch thick stud wall).  Notice the thickness of the wall and opening. 
Arches framed by using these prefab units always result in a beautiful end product, providing a nailable edge and underside that make drywall installation much easier.  Concerning cost - this is a prime example of how "Bad product is remembered long after cheap price is forgotten."  Prefab units cost a small amount of money, and it's well worth it.  You will only have one opportunity to have them turn out beautiful and flawless.  You're likely to be disappointed if you let the framer talk you into letting him build them for you.  
The prefab unit shown on this page was made by Custom-Arch, LLC, in Smyrna, Georgia.  We met the staff at a home building show in Atlanta, and have ordered from them for several houses.  We experience a delivery time of about 3 days once we place an order.  Every piece is made to order.  Check out their web site: 
Check out this link for info on using the same product as a temporary form for laying stone and brick: 
---