How to Check the Layout of the
Home Site and Pouring of Concrete 
The home site layout and pouring of concrete are the first activities of your new home project that you will oversee. Put on your boots and jump right in! Read about site issues. 
The skill and work of the subcontractors you hire are critical, so hire installers who come highly recommended. Check the work they have done for others, and try to get input from the builders who have used them.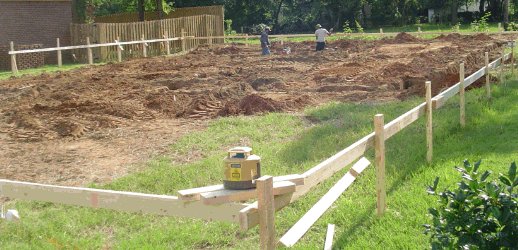 Follow these basic steps when you hire a grading and earthwork contractor to clear your lot or property (if needed), and a "concrete man" to lay out the house, dig footings and pour concrete. 

These require your decisions and supervision:
1. Clear unwanted trees and brush. Mark trees clearly that you want to save or remove! And be there while the work is being done! DO NOT, DO NOT, DO NOT leave the site and assume that the earthwork contractor will get everything right. 
2. Grade the site only if necessary, working with its natural drainage as much as possible. Read about site grades and drainage. 
3. Check the layout of the house, and set the height above grade of the floor. 
4. Carefully check the layout and dimensions of the footings, foundation walls or piers, and slab, before they are installed. 
5. Check the plumbing lines that are installed under the slab. See our page for checking plumbing. 
6. Check the moisture barrier, wire mesh, rebars and other items that go in before the concrete slab is poured. Also check the electrical conduits and receptacles, if any, that go in or under the floor slab. See our page that reviews the items you need to check before the concrete is poured.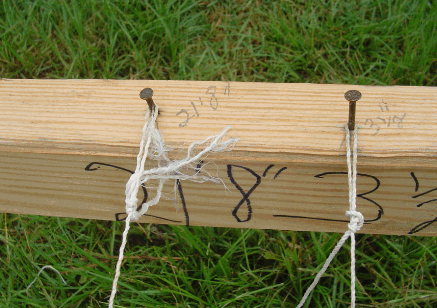 This is a really exciting time for you as your own home builder, so enjoy it! Take lots of pictures! 
We wish you the very best!
Vic and Susan Hunt
Return from Home Site Preparation for Concrete, to Build-My-Own-Home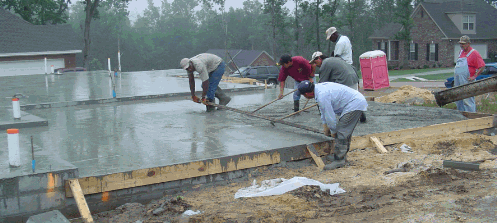 ---