Hiring a Home Builder
Instead of managing the building of your new home, you may consider hiring a home builder. The purpose of build-my-own-home.com is to serve as a consumer awareness web site for you, whether you are your own home builder or end up hiring one. We give advice for looking over the work of others, knowing what to expect, and understanding what you see during the building process. All these are essential, regardless of whether you or someone else serves as the home builder. Here are some tips to help you make the builder decision. 
Why would I want to pay a builder to manage the building of my home, instead of doing it myself?
You might decide that you don't have the experience or time to adequately manage the pricing, legwork for approvals and permits, buying materials, hiring subcontractors, keeping the house and job site clean, and scheduling for your new home building project. A lot of time and money are involved in building a house, and a good home builder earns his pay.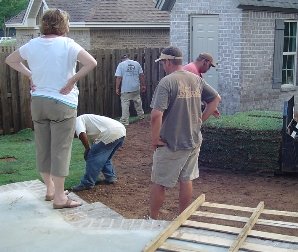 Finding subcontractors, or "subs," who are honest and dependable, and who strive to do excellent work, can be a most difficult task. When we started building houses, we spent a lot of time researching subs through friends and supply houses. We also snooped around job sites of good home builders who had the best reputations, to see which subs they used. That really helped us to identify good quality subs. 
Good subs may also be picky or cautious about working for homeowners, especially if they have plenty of work. Several of our subs have told us stories about working on new houses for homeowners who were managing the project themselves, that turned out to be really tough due to indecision, poor coordination between trades, lack of scheduling, and slow payment. Some avoid working for homeowners, and will only work for licensed builders who are "in the business." 
The question of hiring a home builder is all up to you, as to what you want to do, and what you believe you can do on your own.
Can I get bids from more than one builder? 
Probably, but be open with them so they know what you are doing. Calculating the complete cost of a house takes a lot of time and work, so understand that, whether you try to deal with one builder or several.
Get prices only from home builders you feel good about using. There's no reason to request a bid from a builder that you know you won't hire, just to see how his price compares to others. If you get multiple bids, get them from home builders who are comparable. Do you want a builder known for having the highest quality work and materials, or do you prefer hiring a home builder who is known for getting the most out of a buck on his houses? You need to work with home builders who are known to deliver what you expect for your new house.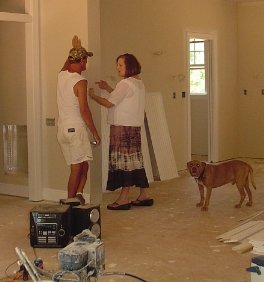 How would I contract with a house builder?
No work should proceed without a contract that both of you sign. A fixed price contract and a cost-plus contract are the most common types of contractual agreements between a homeowner and a home builder. There are important differences.
1.  A fixed price contract includes a paragraph with a fixed, stated dollar amount for building the house. "Fixed price" requires additional statements in the contract to clarify various items that are or are not included in the price.
2.  A cost-plus contract indicates the percentage that the home builder will be paid for building the house. It's a percentage of the cost of materials and labor, so you need a reasonable idea of their expected cost in order to get a feel for how much the whole project will cost you. You will pay the home builder's cost plus the percentage of markup agreed to in the contract. It is reasonable for you to get copies of invoices paid by the home builder each time he gives you a bill.
Do your homework on hiring a home builder, and make the decision that is right for you and your family! 
Susan and I wish you the very best with the building of the home of your dreams!
Sincerely,
Vic Hunt
Go from Hiring a Home Builder page to Planning & Managing the Project
---