House Plans and Design Will Make or Break Your New Home
House plans and design for your new home have such a strong impact that they may be the most important considerations in the home building process. Make good home design decisions at this stage of your home project, and you will have laid the groundwork for a great project.
You can't start until you know what you want. Great home design includes:
1. Character, in a style that suits your taste. 
2. Appropriate fit with the other houses in the subdivision, unless the home is on an isolated piece of property. 
3. Beauty for "Wow" factor, curb appeal, and memory points (good elements of your home that people will remember). 
4. Order 
5. Good functionality. The house works well in plan, and on the site. 
6. Constructibility. We've seen houses that couldn't be built as drawn, due to incomplete drawings or sloppy design. 
7. Durability, resulting in reduced maintenance.
Here's one of our favorite rules:
Bad design is remembered long after cheap price is forgotten.
You see it in houses every day. Find ways to get what you want, by looking at innovative and creative methods and solutions if need be.  Be realistic about your spending limit, but don't let cost dictate every decision.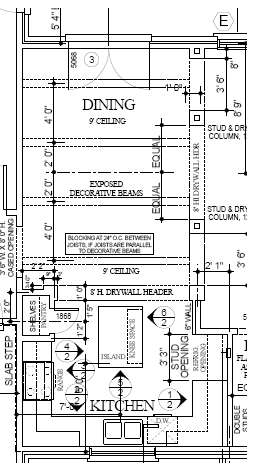 I Need Some Plans!
Many hours of concentrated work are required to make the hundreds of design decisions needed to develop a modern house plan, and to then produce (draw) the drawings. Written specifications of all the materials required must also be developed. Specifications can be included on a sheet of the drawings, or may be on separate sheets of letter-size paper.
Some states require houses to be designed and drawn by an architect registered in those states. Check with your state's law for registration of architects to determine if this applies in your state. In our state (Alabama), one and two-family dwellings may be designed by anyone. Most states are this way.
What's the Best Way to Have Your House Designed and Drawn?
A local home builder and friend was considering whom to get to draw his personal home, which the home builder had sketched. He told us that he had decided to let a cousin do the drawings, because "he has decided to start drawing house plans, and he really wants to do ours." It would be hard to find a worse choice to do the drawings for your house.

There are 3 ways to obtain completed drawings and specifications for your new home: 
1. Buy a complete, finished set of drawings. 
2. Hire an architect, home planner or draftsman to custom design the home as you want it, and then produce the complete construction drawings. 
3. Draw it yourself.
Read on to learn more about each of these methods.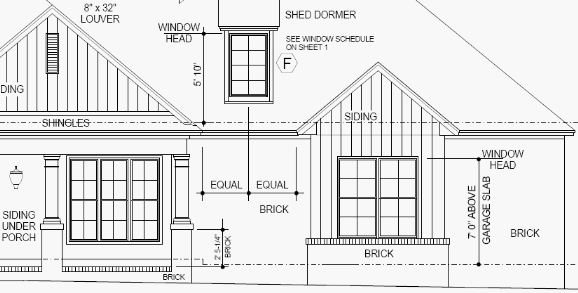 1st Option - Buy a Complete, Finished Set of Drawings
Off-the-shelf finished drawings are available on every street corner, and range in price from $5.00 on eBay to several thousand dollars for drawings of a famous home that you can "duplicate" on your property. Good quality drawings that clearly and thoroughly illustrate a well-designed residence will sell for several hundred dollars - sometimes well over a thousand dollars. The price also depends on the number of drawing sets you order.
House plan magazines and books in stores can be good sources of home designs, if you don't get a brain fog from looking at so much stuff. Since it's hard to make a silk purse from a sow's ear, be sure to start with the best quality books or magazines that you can find.
Architects and designers specializing in house plans can be a superb source of quality house designs. Products from these professionals are available in your home town as well as on the Internet.  See some of our recommendations at the end of this page.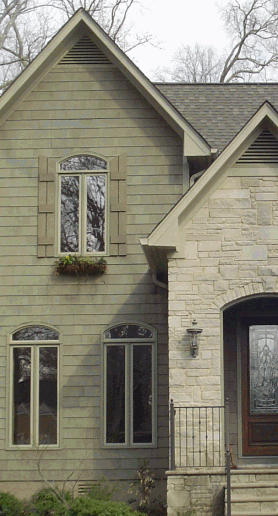 2nd Option - Hire a Custom Home Designer
If your needs are so specialized and unique that you can't find anything that works for you, then you probably need to hire a professional to custom design a home to fit your program.
Be careful when you select the professional that you will work with. Qualifications can vary greatly! Ask friends who have been down this road already for recommendations. If you know any house framers, ask them about the quality, clarity and buildability of the drawings produced by those you are considering. Framers have to live with good and bad sets of drawings.
And be assured - a cheap set of poor quality house plans (construction drawings) can cost you dearly during construction, through excess time and money needed to figure out or correct design decisions that are bad, or that are poorly illustrated in the drawings.
Understand this - when questions arise on the job site, and the drawings don't clearly address the situation, you will be the only expert around. So, figure out as much as possible, and get as much pertinent information in the drawings as you can. This will greatly reduce questions and problems during construction. 
When you work with the designer, be as clear as possible about what you want, and do your design and product research beforehand. Think through important areas such as bathroom design, kitchen design, and home office design.
Remember that a picture is worth a thousand words. A floor plan you have sketched is a great place to start when you meet with the designer.
And remember this rule when you work with the home planner - If you want specific results, you have to give specific instructions.

3rd Option - Draw It Yourself
Yes, I know there are web sites that encourage you to buy some grid paper, and design and draw your own house. And I know that you may be dancing from one foot to the other, dying to get started and save tons of money on your house plans.
From an architect who has designed and drawn dozens of projects on CAD, and from home builders who have built and sold multiple houses, please accept our one word of advice: DON'T. There are too many pitfalls and too much money at stake to not use experienced individuals for the planning stage. You will also severely reduce the number of subs and banks that will take you seriously, which is very important to the individual who acts as his own home building contractor.

How many sets of drawings will I need?
Typically you will need at least 8 or 9 full sets to get your home built. You may give out sets to suppliers and subs who return the drawings with the price. If the electrical plan is separate from the other floor plans, you may be able to pull that sheet out of the set for the electrician. You can give the remaining sheets to the cabinet maker or plumber. Those needing to keep their drawings are:
You 
Banker 
Concrete installer 
Framer 
Window supplier 
Plumber 
Heating and cooling system installer 
Electrician 
Cabinet maker (can use a partial set) 
Trim and door supplier (maybe - can use a partial set)

These are some of our favorites sources for quality design inspiration and house plans. Each link opens a new web page.
The Not So Big House, book by architect Sarah Susanka 
Southern Living magazine
Renovation Style magazine 
Donald A. Gardner Architects 
Frank Betz Associates 
Sater Design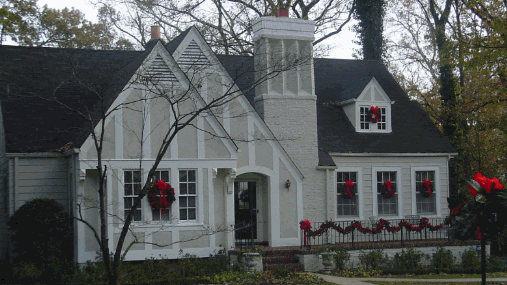 What are blueprints?
Blueprints is another term frequently used to incorrectly refer to a set of drawings ("Do you have your blueprints yet?"). "Blueprints" are actually the result of an old wet process for printing drawings that resulted in sheets that were solid blue with white lines. Thus, the prints really were blue. However, blueprints is not a term that should be used to refer to construction drawings, unless they are real blueprints.
The commonly used term plans is actually a slang term for what is more accurately referred to as working drawings or construction drawings. There's much more to a set of construction drawings than just plans. A set of drawings for a house also includes various interior and exterior elevations, sections, details, and schedules. 
Return from House Plans and Design page to House Design page
Return from House Plans and Design page to Build-My-Own-Home
---